Today, Monday, October 23, 2023, Google Doodle celebrates Nigerian footballer, Rashidi Yekini, who is remembered for being the top goalscorer of the nation and widely considered one of the best Nigerian athletes of all time.
Yekini was nicknamed the "Goalsfather" for his ability to sneak shots by the keeper. On this day in 1963, he was born in Kaduna, Nigeria.
The beginning of Yekini's life was difficult as he faced homelessness and poverty. To make money, his first jobs were a welder and mechanic, but his true goal was to pursue football. He soon began playing in front of scouts and in 1981, he joined his first football club, UNTL FC, in Kaduna.
The talented striker played for the Shooting Stars next, scoring an impressive 45 goals in 53 games. His spectacular scoring abilities earned him the title of African Footballer of the Year in 1983, and he was the first Nigerian player to receive this honour. The next year, he helped bring the Shooting Stars to the finals of the African Champions Cup.
READ ALSO | Reps For CRS/AKS In FCSC: We Must Not Let This Slide
Outside of Nigeria, he also played for football clubs in Spain, Tanzania, Saudi Arabia, Portugal, Tunisia, Switzerland, and Greece. While playing for a Portuguese team called Vitória Setúbal, he won the Bola de Prata (Silver Ball) for being the league's top-scoring player in the 1993-94 season.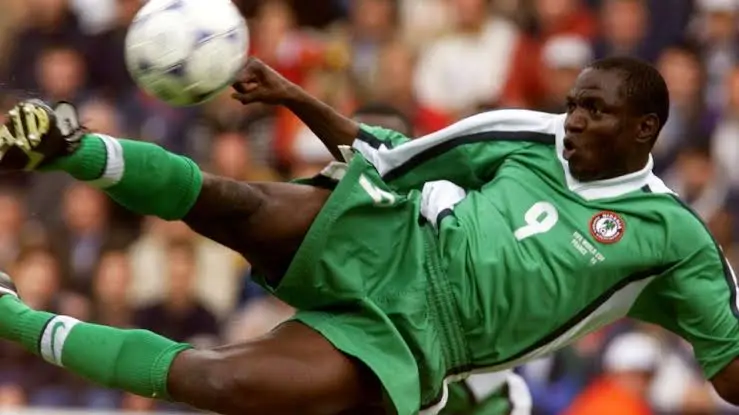 Yekini helped Nigeria's national team, nicknamed the Super Eagles, qualify for the 1994 World Cup. Nigeria played Bulgaria on June 21st, and Yekini made it a game to remember. Not only did he score the first goal of the game, but also the first World Cup goal for Nigeria. Overcome with excitement and pride, he ran into the net and clutched it with both arms while cheering and crying tears of joy. Many consider it one of the most iconic goal celebrations in football history and it served as inspiration for today's Doodle artwork.
He went on to play for the Super Eagles for a little over 14 years, including another shot at the World Cup in 1998. In his 58 games for Nigeria, he scored 37 times, and to this day holds the record for most goals scored for the country.
Yekini married three wives. He had three daughters, named Yemisi, Omoyemi and Damilola.
Yekini was reported to be ill for an extended period of time. In 2011, the media began issuing reports of his failing health, and he was said to suffer from bipolar disorder and some other undisclosed psychiatric condition.
Rashidi Yekini died in Ibadan on May 4, 2012, at the age of 48. The news was confirmed by former national teammates Mutiu Adepoju and Ike Shorunmu; he was buried at his residence in Ira, Kwara State.
He was surrounded by his aged mother, brother, wives and children, among others.