The Police in Cross River State have busted a gun-making and bomb (IEDs) factory in Osomba, Akamkpa Local Government Area of the state.
The police also arrested 9 in connection to the factory, including bomb makers.
A credible source said the breakthrough was made courtesy of the police Anti-Cultism and Kidnapping Squad (Dragon Squad) led by SP Ogini Chukwuma on the orders of the Commissioner of Police, CP Gyogon Grimah.
The said the operation, which the source said lasted for over four hours, occurred in the early hours of Wednesday (Sept. 20).
Remote-controlled Improvised Explosives Devices (IEDs), detonators, other explosive devices, several automatic weapons, dozens of locally made double barrels and pistols were recovered during the operation.
"The guns and weapons used by gangsters and other criminals to terrorise the area mostly come from that place.
"With this uncovering and arrest, Osomba and its environs would know peace as many of those who were benefiting from the illicit activity were either in police custody or have run away from the community", a village source said.
Collaborating with the news, SP Irene Ugbo, Police Spokesperson in the state said the 9 suspects are now in custody, including a notorious gangster, and armed robbery suspect, simply identified as Orok Etim a.k.a GOWON.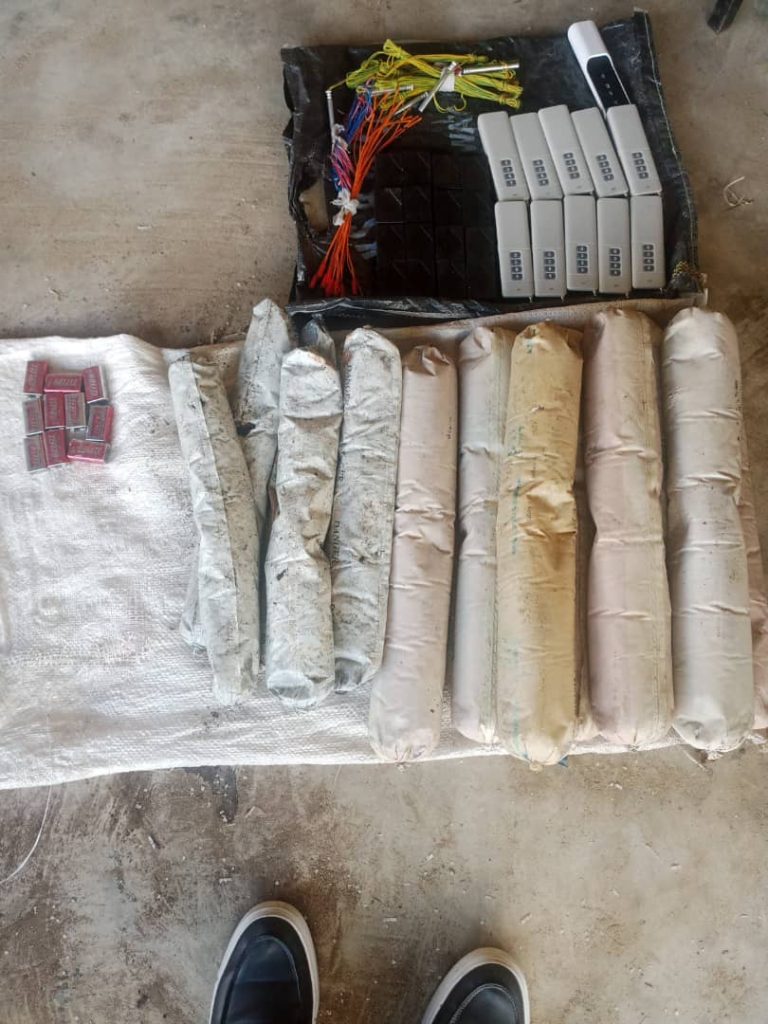 Ugbo mentioned the recovery weapons to include high explosive devices 90M, 8 pieces, 60M 6 pieces, Detonator 10 pieces and Indicators 15 pieces, as well as 10 pieces of remote devices and 10 pieces of battery as the power source.
Others include G3 automatic machine gun 2 pieces, 3 pump actions, MAC 4 automatic rifles 5 pieces, 5 locally fabricated pistols, LAR rifle, fabricated revolver, locally, Beretta pistol, 650 rounds of 7.6×51 LAR ammunition, 29 rounds of 7.62×39 AK-47 ammunition X 70 pieces of cartridges amongst others.
She said the suspects will be charged to court as soon as possible.
Ugbo said: "Once we are done with our investigation, they would be charged to court – this is a pure act of terrorism – for them to be making explosives right inside a community with highly sophisticated remote donators, indicators and so on.
"It's a huge breakthrough for the Command and we are not relenting in our quest to sanitise the state and make Cross River a safe haven that it is. As a matter of fact, we are taking the war to these criminals."