By Kingsley Agim
Cross River Commissioner for Health, Dr Henry Egbe Ayuk has advised journalists to prioritise regular checkups and healthy exercise regimens amid their onerous tasks of keeping the public informed as well as bridging the gap between the government and the governed.
Ayuk gave the advice while declaring open a one-day free medical outreach for journalists organised by Asi Ukpo Hospital in collaboration with the Cross River State Council of the Nigeria Union of Journalists (NUJ), held at the Ernest Etim Bassey Press Centre, State Housing Estate, Calabar.
"I am delighted by the privilege to declare this important event open. I call on all journalists to take advantage of the Asi Ukpo Hospital-supported free medical outreach and get themselves tested.
"It is better to have early detection and possible treatment, rather than allow an ailment to overwhelm the system before seeking medical assistance," the Commissioner told journalists.
The Commissioner reserved special praise for Asi Ukpo Hospitals for "its investments in the State, particularly Ogoja and Calabar," noting that the medical outreach provided an opportunity for journalists, who are very busy with their day-to-day responsibility of information dissemination, to check themselves medically, as well as get the needed attention in the case of any detection."
READ ALSO | Many Feared Dead As Bus Carrying Immigration Officers Who Just Completed Their Training Crashes Along Abuja-Kano Road
"Asi Ukpo Hospital has intervened in many non-profit causes in Cross River. They have assisted us with commodities to attend to critical areas of need; and just recently, they collaborated with the State to tackle papillomavirus and other dangerous epidemics. All these, the State Government is very appreciative of," he added.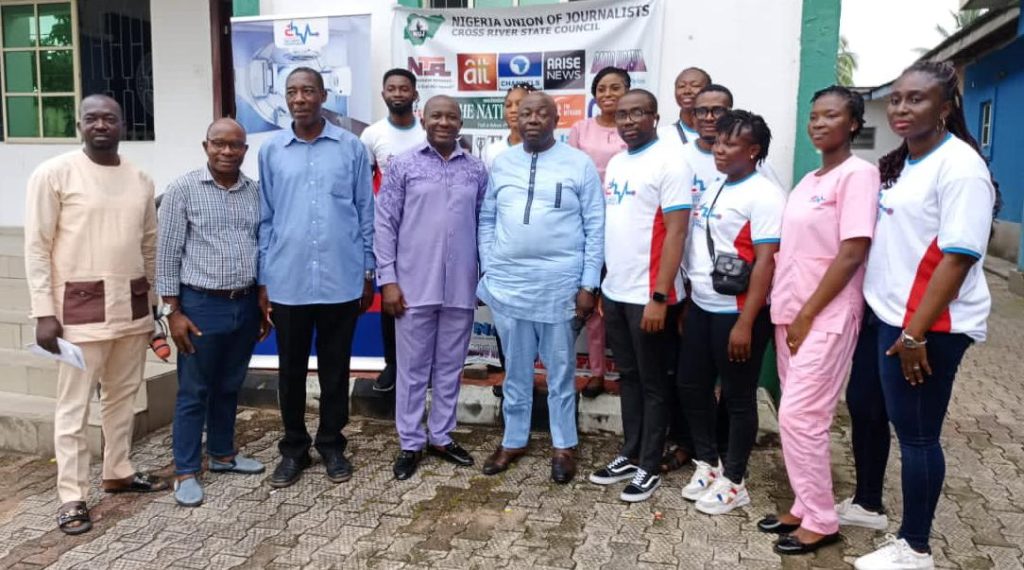 Also speaking, the Chairman of the Nigeria Union of Journalists, Cross River State Council, Comrade Nsa Gill, said the medical outreach, held on Friday, 10th November 2023, was part of his leadership's efforts in prioritising the health and wellbeing of its members, whom most of the time are consumed by the high demands of their jobs and profession.
He expressed gratitude to the Management of Asi Ukpo Hospitals for accepting to partner with the NUJ in the State in providing medical services to its members, describing the collaboration as a win-win as it serves mutually beneficial interests of the two bodies.
Earlier, the leader of the medical team, Dr Kanu Ekpo, mentioned that Asi Ukpo Hospitals' partnership with the NUJ was part of its social responsibility programme for residents of its host communities, with journalists the focus of the moment.
Some of the free services rendered included prostate antigen tests, blood sugar tests, vital checks, free consultations, among others.