After completing his 188 hours of non-stop writing to set a new Guinness World Record (GWR), Daniel Aiguokhian has been offered an appointment by the Government of Cross River State.
Aiguokhian completed the feat as a 300 Level Student of the Department of Philosophy, University of Calabar (UNICAL) on Monday (Oct. 9).
The 27-year-old who commenced on Sunday (Oct. 1), wrote 19 books, 8 fiction and 11 non-fiction works for 8 days, 188 hours, nonstop.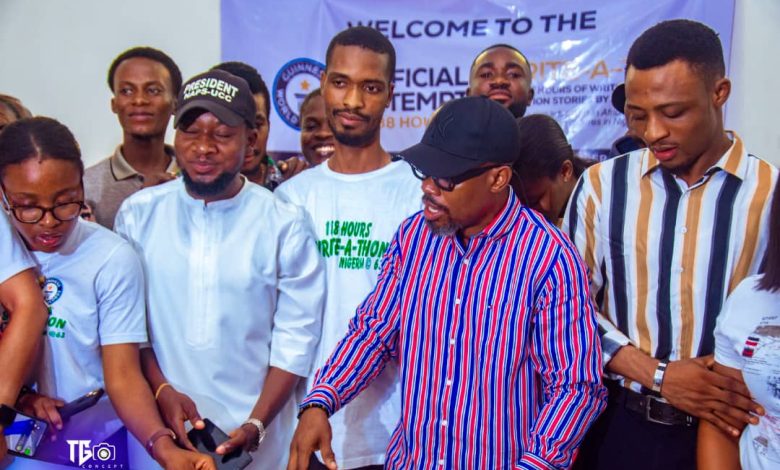 Seeing the prowess of Aiguokhian, Cross River State Commissioner for Youths & Skill Development, Barr. Odum Ijom Ukam offered the writer an appointment as a Consultant to the Ministry.
Ukam said Aiguokhian is helping to change the narrative because youths used to be known for some vices such as some negative addictions.
The Commissioner said Aiguokhian's position is to help train young people on creative writing skills in the state's entrepreneurship programme that will be commencing soon.
READ ALSO | Cross Riverians Receive Palliatives From Government
On her part, the Vice-Chancellor of UNICAL, Prof. Florence Obi, said the institution is proud of Aiguokhian for achieving such an illustrious feat while calling on other students of the institution to emulate him.
She said, "Today, I appreciate Daniel for letting the world know the intellectual sagacity of our students for being able to write for 188 hours, indeed this is a feat that people will need to work very hard to break.
"As an institution, we will make sure the world hears about this, I have sent a message to the Minister of Education, the Acting Executive Secretary of the National Universities Commission (NUC) and the Permanent Secretary of the Ministry of Education about this feat.
"In recent times, UNICAL has been in the news for negative reasons, today, we want the world to know that this is an institution of intellectual giants."
Speaking on his quest, Aiguokhian said he felt great being able to set a record no one had set before, adding that he was motivated to go into the arduous task because he wanted Nigerian and African writers to be celebrated for their efforts.
His words: "While I appreciate everyone who has supported me, I call on young people not to give up on their dreams but should gather knowledge and look at the bigger picture while shrugging off limitations.
"A major challenge for me was the lack of sleep because, for 24 hours each day, I was only entitled to one hour 30 minutes break which is not enough for a normal human."