The representative from Nigeria for the 2023 Ballon d'Or snubbed the Nigerian International, Victor Osimhen for the most decorated award in football for Argentina International, Lionel Messi.
Recall that on October 30, 2023, in Paris, Messi won his eighth Ballon d'Or, making him the first footballer in history to reach that number.
While Messi won the Ballon d'Or with 462 points, his closest rival, Erling Haaland polled 357 points with a margin of 105 points.
Osimhen on the other hand, came 8th with 24 points, the highest by a Nigerian.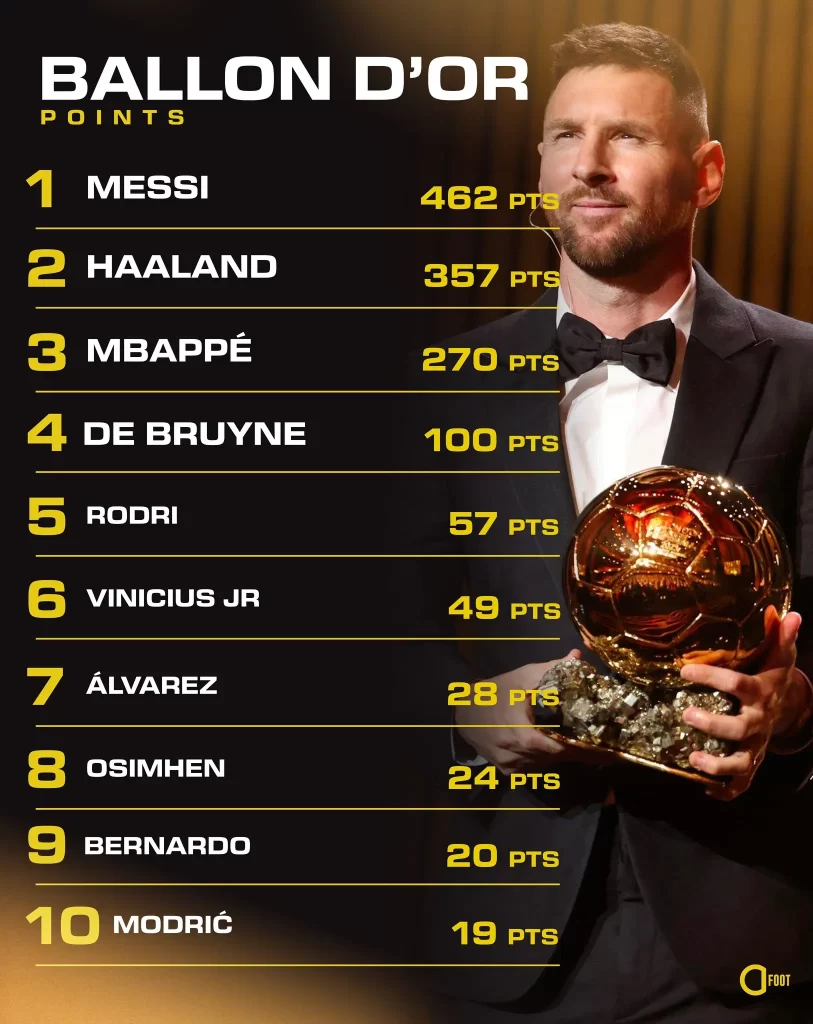 For the 102 countries that voted, many opted for the nominee from their country, like Argentina for Messi, Norway for Haaland but Nigeria snubbed Osimhen just like a few nations did for their nominee.
READ ALSO | Governor Eno Inspects Site For Ibom Model Farm
This is not the first time Nigeria has snubbed their own for such an award. Asisat Oshoala is also a victim of the women's category.
Here Is The Full List Of Votes By Country
1. 🇿🇦 South Africa: Messi
2. 🇦🇱 Albania: Messi
3. 🇩🇿 Algeria: Haaland
4. 🇩🇪 Germany: Messi
5. 🏴󠁧󠁢󠁥󠁮󠁧󠁿 England: Messi
6. 🇸🇦 Saudi Arabia: Messi
7. 🇦🇷 Argentina: Messi
8. 🇦🇺 Australia: Messi
9. 🇦🇲 Armenia: Messi
10. 🇦🇹 Austria: Messi
11. 🇧🇭 Bahrein: Haaland
12. 🇧🇪 Belgium: Messi
13. 🇧🇯 Benin: Haaland
14. 🇧🇾 Bielorussia: Messi
15. 🇧🇴 Bolivia: Messi
16. 🇧🇦 Bosnia: Messi
17. 🇧🇷 Brazil: Messi
18. 🇧🇬 Bulgaria: Mbappé
19. 🇨🇲 Cameroon: Mbappé
20. 🇨🇦 Canada: Messi
21. 🇨🇻 Capo Verde: Haaland
22. 🇨🇳 Cina: Messi
23. 🇨🇱 Cile: Messi
24. 🇨🇴 Colombia: Messi
25. 🇰🇷 Korea: Messi
26. 🇨🇷 Costa Rica: Messi
27. 🇨🇮 Ivory Coste: Mbappé
28. 🇭🇷 Croatia: Messi
29. 🇩🇰 Denmark: Haaland
30. 🏴󠁧󠁢󠁳󠁣󠁴󠁿 Scotland: Messi
31. 🇪🇬 Egypt: Messi
32. 🇮🇪 Ireland: Messi
33. 🇦🇪 UAE: Messi
34. 🇪🇨 Ecuador: Messi
35. 🇪🇸 Spain: Messi
36. 🇺🇸 USA: Messi
37. 🇫🇮 Finland: Messi
38. 🇫🇷 France: Haaland
39. 🇬🇦 Gabon: Haaland
40. 🏴󠁧󠁢󠁷󠁬󠁳󠁿 Wales: Messi
41. 🇬🇪 Georgia: Messi
42. 🇬🇭 Ghana: Haaland
43. 🇬🇷 Greece: Haaland
44. 🇬🇳 Guinea: Haaland
45. 🇬🇶 Guinea Eq: Messi
46. 🇭🇳 Honduras: Messi
47. 🇭🇺 Hungary: Messi
48. 🇮🇳 India: Messi
49. 🇮🇶 Iraq: Messi
50. 🇮🇷 Iran: Messi
51. 🇬🇧 Northern Ireland: Messi
52. 🇮🇸 Island: Haaland
53. 🇮🇱 Israel: Messi
54. 🇮🇹 Italy: Messi
55. 🇯🇲 Jamaica: Messi
56. 🇯🇵 Japan: Haaland
57. 🇯🇴 Giordania: Haaland
58. 🇰🇬 Kirghizistan: Haaland
59. 🇱🇧 Lebanon: Messi
60. 🇱🇺 Luxembourg: Messi
61. 🇲🇰 Macedonia: Haaland
62. 🇲🇦 Morocco: Messi
63. 🇲🇽 Mexico: Messi
64. 🇲🇪 Montenegro: Messi
65. 🇳🇬 Nigeria: Messi
66. 🇳🇴 Norway: Haaland
67. 🇴🇲 Oman: Messi
68. 🇺🇬 Uganda: Messi
69. 🇵🇸 Palestine: Messi
70. 🇵🇦 Panama: Messi
71. 🇵🇾 Paraguay: Messi
72. 🇳🇱 Netherlands: Messi
73. 🇵🇪 Perù: Messi
74. 🇵🇱 Polonia: Messi
75. 🇵🇹 Portugal: Bernardo Silva
76. 🇶🇦 Qatar: Messi
77. 🇨🇿 Czech Republic: Messi
78. 🇷🇴 Romania: Messi
79. 🇷🇺 Russia: Messi
80. 🇸🇻 Salvador: Haaland
91. 🇸🇳 Senegal: Haaland
92. 🇸🇰 Slovakia: Haaland
93. 🇸🇮 Slovenia: Messi
94. 🇸🇪 Sweden: Messi
95. 🇨🇭 Switzerland: Haaland
96. 🇹🇳 Tunisia: Messi
97. 🇹🇷 Turkiye: Messi
98. 🇺🇦 Ukraine: Messi
99. 🇺🇾 Uruguay: Messi
100. 🇻🇪 Venezuela: Messi
101. 🇻🇳 Vietnam: Messi
102. 🇿🇲 Zambia: Messi