By Frank Ulom
The Super Eagles of Nigeria will take on The Warriors of Zimbabwe at the Stade Huye, Butare, Zimbabwe on Sunday 19th November 2023.
The match will be played at 2pm (WAT) – Nigerian time. Nigeria are playing away to Zimbabwe.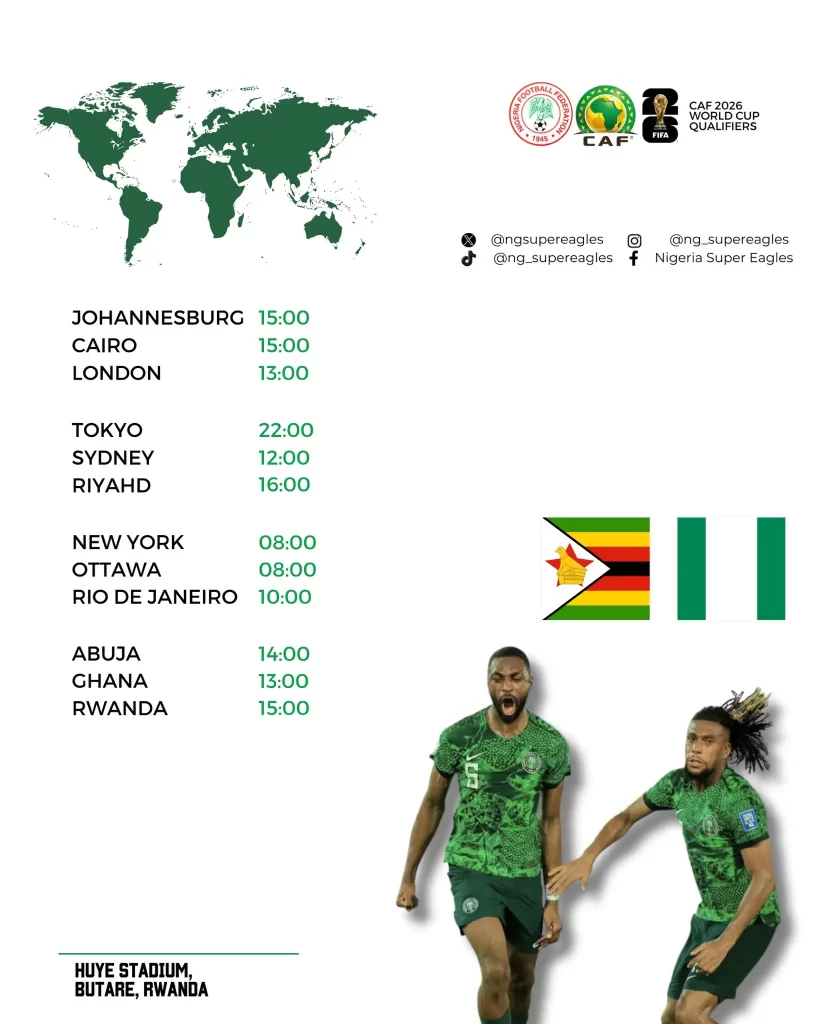 The match is the second game for both teams in the ongoing 2026 FIFA World Cup qualifiers for the Confederation of African Football (CAF).
Both countries have one point each and sit 3rd and 5th in Group C after drawing their first games of the qualifiers.
READ ALSO | Meet Chido Obi-Martin, First Player To Score 10 Goals In A Single Game
The match officials are, Souleiman Ahmed Djama (Referee), Liban Abdourazak Ahmed (Assistant), Rachid Bouraleh (Assistant) and Mohamed Diraneh Guedi (4th Official).
Follow The Links Below To Livestream Zimbabwe Vs Nigeria Match
3. https://reddit2.sportshub.stream/event/zimbabwe_nigeria_170604663
4. https://reddit2.sportshub.stream
6. https://soccerlive.app/soccer-stream/zimbabwe-nigeria/1262861
8. https://rsoccerstreams.net/fixture/zimbabwe-nigeria/1262861